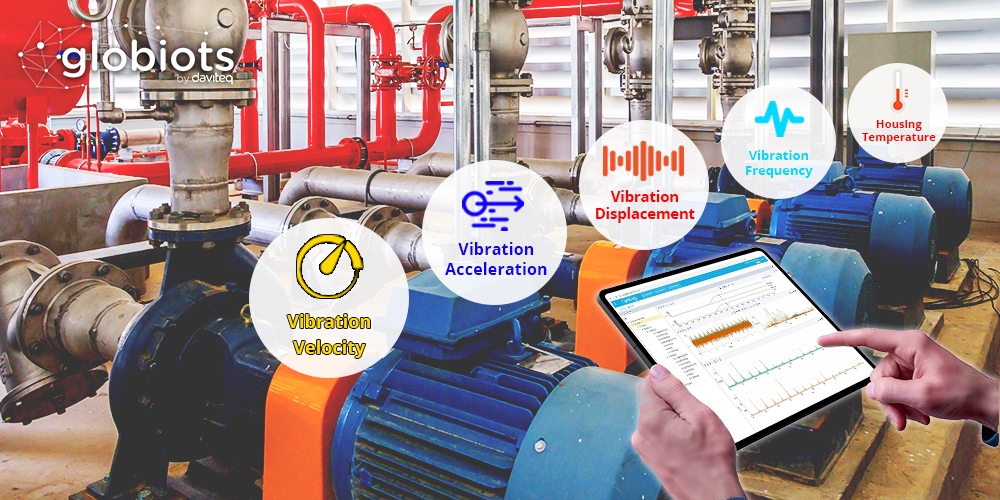 CUSTOMER CHALLENGE
In a factory, essential, high-value, 24/7-operated machines and equipment need constant health monitoring for effective maintenance. Among the machine's health factor monitorings, vibration monitoring is the most crucial tool in a predictive maintenance program. The application of an online vibration monitoring system will help detect abnormalities, predict early damage types of machines and equipment, and overcome the following difficulties:
Manually measurments are labor-intensive, or hiring a regular inspection service is very expensive.
Manually measuring the vibration of equipment in hard-to-reach locations is difficult and unsafe.
Manual measurement data are intermittent, so abnormal vibrations are difficult to be detected.
The wired vibration monitoring system is challenging to deploy, high cost, and complex to maintain.
SOLUTIONS
SubGhz Vibration, a solution of vibration monitoring for machines, is researched, developed, and manufactured by Daviteq. The solution uses battery-powered, wireless sensors that measure the machines' vibrations and temperatures. The sensors send measured data to the iConnector using Sub-Ghz wireless network. And then iConnector will transmit data to Globiots Cloud Server via 3G/4G, Wifi, or Ethernet. The solution includes the following main functions:
Automatically collect machines' vibration parameters, including vibration frequency, vibration displacement, vibration velocity, vibration acceleration, and housing temperature.
Display the current value of the measured parameters and the historical graph of the machines' vibration values over the selected period.
Immediately send vibration alerts to the person in charge when the machines' vibration parameters exceed the ISO 10186 thresholds.
View professional analysis reports and predictive maintenance reports of machines' bearings, gearboxes, bases, motor shafts, and rotors.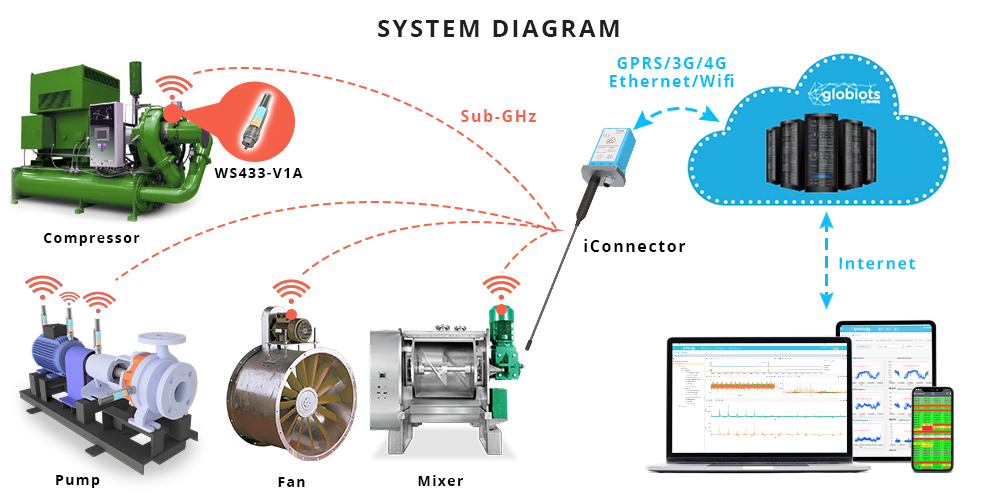 FEATURES
The sensors measure multiple parameters, run on battery, connect 100% wirelessly and apply advanced Sub-Ghz technology.
The system monitors automatically and immediately sends alerts in many ways (on site, via the app, via email, and SMS).
The web and mobile apps visualize intuitive dashboards, professional analytics reports, and failure forecasting reports.
The system exchanges data simply with the third party maintenance and production software (ERP, MES).
BENEFITS
SubGhz Vibration provides factories with an effective predictive maintenance tool. The vibration monitoring solution reduces maintenance costs, lowers production downtime, and increases machine safety. The detailed benefits of the solution are as follows:
The 8-in-1 and 100% wireless vibration sensors optimize system investment, deployment, operation, and maintenance costs.
Remote and online vibration monitoring system ensures machines' continuous, safe, and stable operation.
Instant vibration alerts facilitate quick vibration problem responses and reduce production downtime.
Professional analysis reports help detect machine failures timely and plan machine maintenance programs effectively.
PRODUCTS USED
| | |
| --- | --- |
| SKU# | PRODUCTS |
| STHC | Smart IoT Gateway - iConnector |
| WS433-CL | LONG RANGE WIRELESS CO-ORDINATOR |
| ISV | Industrial Globiots Servers |
| WS433-V1A | Wireless Piezo-Electric 10khz Vibration Sensor |